Baltic Partners acted as financial advisor to private investors in acquisition of Levada group of companies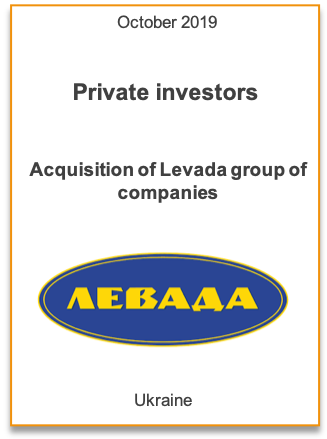 29 October 2019, Odessa – Levada group of companies sold certain trademarks and production assets to private investors.
Levada is leading national producer of frozen semi-finished products and well recognized national brand with total annual production capacity of 36,000 tons and export to Moldova, Belarus and other countries
Acquisition by private investors will allow Levada to strengthen its balance sheet and expand production volume, facilitate new product development and increase in export.
The transaction represents rare example of successful local consolidation in FMCG market in Ukraine
Baltic Partners advised private investors in all stages of the transaction, including identification of the opportunity, business valuation, negotiations and Term Sheet signing, transaction structuring as well as coordinating due diligence, supporting signing and closing.
From Baltic Partners side the transaction was led by Valeri Kulitski (Managing Partner) and Mikhail Murashko (Head of M&A).