Baltic Partners team advised founders on sale of minority stake in 8Wines.com to Purcari Wineries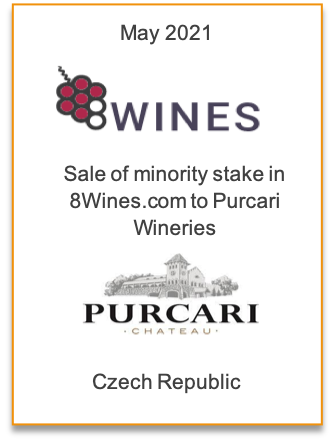 14 May 2021 – 8Wines.com the fast-growing online retailer of wines received minority investment from Purcari Wineries Plc, leading wine producer in CEE.
8Wines founded in 2015 by Vasily Dinkov and Sergey Nekipelov and headquartered in Prague, Czech Republic. 8Wines.com is an independent online wine retailer specialising in selling premium wines on the EU market and beyond.The company targets revenue increase to €4.5 million in 2021 (2.9 times YoY). The business is profitable.
Purcari Wineries (BVB: WINE) is one of the largest wines and brandy groups in the CEE region. The Group manages around 1,300 hectares of vineyards and operates four production platforms in Romania and Moldova. Purcari Wineries is the leader in the premium wine segment in Romania, with a ~30% segment share, and the largest wine exporter from Moldova, delivering to over 30 countries. Starting February 2018, the Group is listed on the Bucharest Stock Exchange.
Baltic Partners advised the founders of 8Wines in all stages of the transaction, including facilitating competitive process among short-list of investors, deal structuring, negotiating sale-purchase agreement and shareholder agreement (including performance based earn-out and put and call options). Baltic Partners team was led by Valeri Kulitski (Managing Partner) and Mikhail Murashko (Head of M&A).
Baltic Partners is an independent regional financial advisory firm focusing on transactions with private equity funds, cross-border corporate M&A as well as ECM transactions in public markets. Baltic Partners is focused on serving clients in the Baltic States, Ukraine and CEE