Baltic Partners advised iCotton on acquisition of the key assets from Austin Lane Co. (dba Hempress Hygienics Inc.)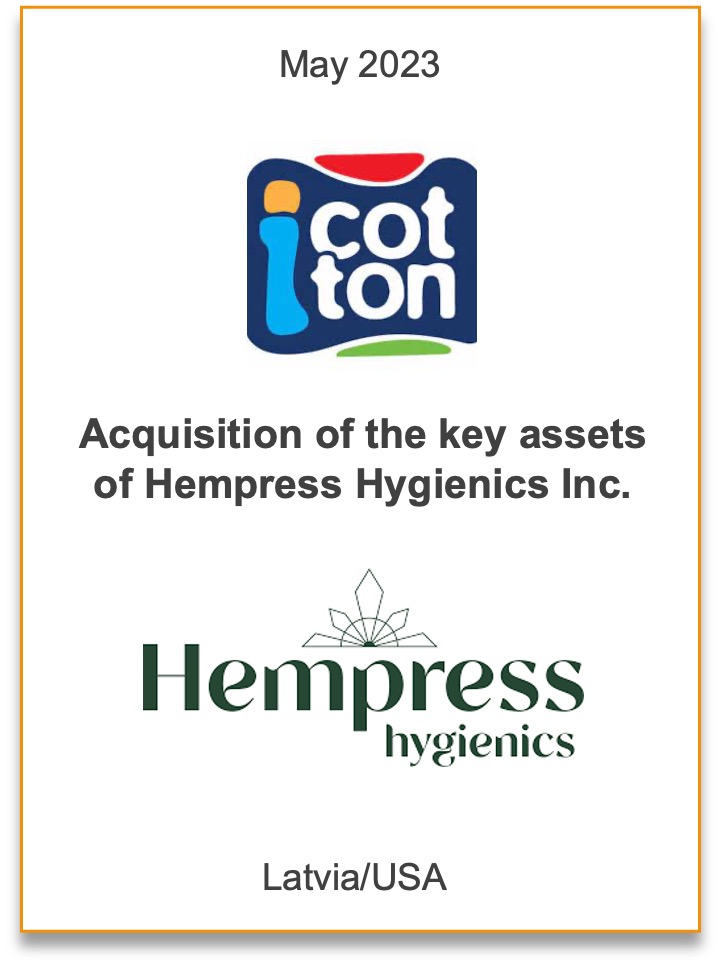 May 2023 – iCotton (Latvia) acquired the key assets of Hempress Hygienics Inc. (USA), including IP rights, trademarks and patents. The transaction sets iCotton footprint in the US market in-line with its strategy aimed at producing natural fiber-based hygiene products sold in Europe and exported internationally. The goal is to become one of the leading hemp-based and natural fiber-based products suppliers in the US and Europe.
Hempress Hygienics Inc. founded in 2019 and managed by strong founder's team, spearheaded hemp fiber technology and sustainable period care product development in the US. The founders created one of the first 100% hemp tampons, pads and liners in the world.
iCotton is one of the largest vertically integrated cotton product manufacturers in Eastern Europe, located in Latvia. iCotton owns 66% of Harper Hygienics SA, which is leading producer of skin-cleaning cosmetic and hygiene products in Poland. The group produces cotton pads, cotton buds, underpads and wet wipes. iCotton operates state of the art production sites certified by ISO, BRC, GMP, FSC, Vegan, Ecocert and OCS.
Baltic Partners assisted iCotton in all stages of the transaction, such as negotiating Term Sheet with the founders, supporting during due diligence, structuring the transaction, negotiating transaction documentation and executing closing procedures. The transaction was led by Valeri Kulitski, managing partner of Baltic Partners. Legal advice was provided by Grayver Law Group, P.C. (California).
Baltic Partners is independent regional financial advisory firm based in Latvia, focused on private equity and cross-border M&A transactions. Baltic Partners is serving the clients in the Baltics and wider CEE region (including Ukraine)