Baltic Partners team advised Founders and Otrais Eko Fonds on sale of 52.81% in AS Eco Baltia to INVL Baltic Sea Growth Fund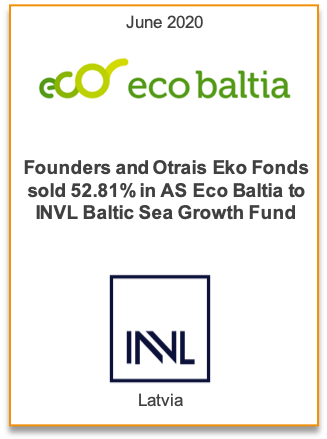 29 June 2020 – Founders and Otrais Eko Fonds ("the Sellers") have sold a controlling stake (52.81%) in AS Eco Baltia to INVL Baltic Sea Growth Fund ("the Fund"). AS Eco Baltia is the largest environmental management group for plastic recycling and waste collection in the Baltics. In 2019, Eco Baltia's group revenues increased by 9% to €70.62 million, with more than 60% of its revenues coming from the recycling sector alone. The group employs more than 800 people and its largest subsidiaries are PET Baltia, Eco Baltia Vide, Nordic Plast and Latvijas Zalais Punkts, respectively.
The deal sees other existing shareholders, including European Bank for Reconstruction and Development ("EBRD") retain their stakes in Eco Baltia.
INVL Baltic Sea Growth Fund with its total size of €165mn is the largest private equity fund in the Baltics with the European Investment Fund ("EIF") acting as its anchor investor. The EIF has committed €30mn with the support of the European Fund for Strategic Investments, as well as allocating resources from the Baltic Innovation Fund, the "fund of funds" initiative developed in cooperation with the governments of Lithuania, Latvia and Estonia. The Fund seeks to assemble a diversified portfolio of companies, targeting majority or significant minority stake deals and writing tickets of €10mn to €30mn, that showcase high growth potential and the ability to compete on a truly global basis. The Fund is focused on the Baltic States and the neighbouring regions of Poland, Scandinavia and Central Europe specifically. The Fund is managed by one of Lithuania's leading asset management companies INVL Asset Management, which is part of the Invalda INVL group.
Baltic Partners supported the Sellers in all stages of transaction, including initial preparation, marketing to investors, term sheet negotiations, support during due diligence, deal structuring as well as negotiation of transaction documentation and supporting the closing procedures. This transaction represents unique cross-border deal in highly regulated industry where leading private equity fund joined forces with institutional investors to create long-term value of the business. The transaction was led by Baltic Partners team, including Valeri Kulitski (Managing Partner) and Dmitry Smirnov (Partner).
Baltic Partners is an independent regional financial advisory firm focusing on transactions with private equity funds, cross-border corporate M&A as well as ECM transactions in public markets. Baltic Partners is focused on serving clients in the Baltic States, Ukraine and CEE