Baltic Partners team advised AS Repharm in the acquisition of controlling stake in the largest medical clinics chain in Lithuania operating under MediCA Klinika and Kardiolitos Klinikos (Kardiolita) brands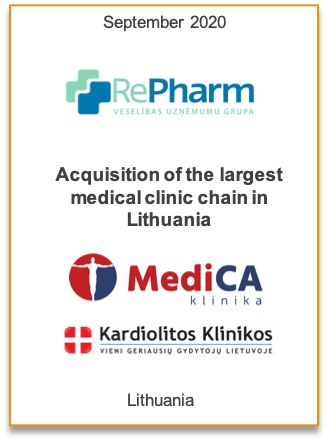 03 September 2020 – AS Repharm ("the Buyer") acquired a controlling stake in UAB MediCa klinika, UAB Kardiolita, UAB Bendrosios medicinos praktika and UAB Svalbono klinika (the Clinics) from Lithuanian medical holding CGP Management.
The acquired group of companies represent the largest private medical service provider in Lithuania with the network of 33 clinics (3 specialized clinics and 30 outpatient clinics) operating in 16 cities. The network includes Kardiolitos Klinika in Vilnius which is the only private inpatient hospital in Lithuania. In 2019, the Clinics employed more than 1,400 staff (family doctors, specialist doctors, dentists and nurses) and provided healthcare services to over 128.3 thousand patients. The Clinics generated 32.7 million euros in revenue in 2019.
AS Repharm is a group of Latvian companies operating in the field of healthcare and providing services for the whole healthcare cycle – from healthy lifestyle opportunities to diagnostics and treatment. The company includes AS "Sentor Farm aptiekas" pharmacies (brand "Mēness aptieka"), AS Veselības centru apvienība" outpatient clinics, SIA "Centrālā laboratorija" laboratory services, AS "Rīgas farmaceitiskā fabrika" health product factory and wholesales company AS "Recipe Plus". This transaction is in line with the Group's strategy to expand into European markets and is the first major step in this direction.
Baltic Partners assisted the Buyer in all stages of transaction process, including presenting the investment business case, preparation and submission of the term sheet, supporting during due diligence, deal structuring, negotiations of purchase price and transaction documentation and assistance in executing closing procedures. Baltic Partners team was led by Valeri Kulitski (Managing Partner) and Dmitry Smirnov (Partner) with support from Andriy Shcherbyna (Associate Director) and Mykola Leifura (Senior Analyst).
Baltic Partners is an independent regional financial advisory firm focusing on transactions with private equity funds, cross-border corporate M&A as well as ECM transactions in public markets. Baltic Partners is focused on serving clients in the Baltic States, Ukraine and CEE