Baltic Partners team advised Repharm in the merger transaction between leading Lithuanian private medical chains MediCA Group and InMedica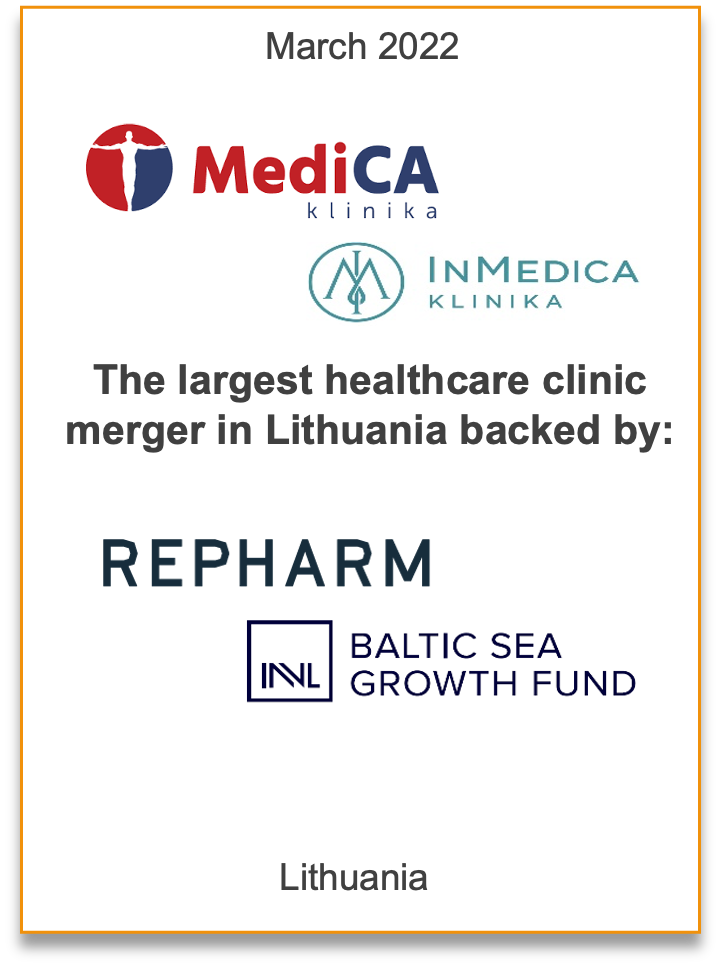 30 March 2022 – MediCa Group owned by AS Repharm completed the merger transaction with InMedica backed by INVL Baltic Sea Growth Fund, which became the largest transaction in Lithuanian healthcare market history to date.
The combined company will represent the widest network of 70 clinics operating in 20 cities with 2,700 highly qualified specialists providing full set of health care services to 7% of the Lithuanian population. Consolidated revenue will approach €90m which is 3% of the €3bn healthcare market in Lithuania.
Post-transaction INVL Baltic Sea Growth and AS Repharm will own 45% and 40% respectively with the remaining 15% stake owned by Kęstutis Broniukaitis, the founder and CEO of InMedica. The business will be managed by a joint management team made of MediCA Group and InMedica professionals.
AS Repharm represents a group of companies offering healthcare, wholesale and retail of pharmaceutical and healthcare products, laboratory services, operating in the Baltic region and generating annual total revenues of over EUR 300 million. The company includes Mēness aptieka pharmacies, Veselības centru apvienība and MediCA group clinics, Centrālā laboratorija labs, the wholesaler Recipe Plus and Rīgas Farmaceitiskā fabrika, a producer of plant-based medicines and herbal therapeutic agents.
INVL Baltic Sea Growth Fund with its total size of €165m is the leading private equity fund in the Baltics with the European Investment Fund acting as its anchor investor. The Fund is managed by INVL Asset Management, which is part of the Invalda INVL group that has over €1.5bn of assets under management.
Baltic Partners assisted the AS Repharm in all stages of transaction process, including the term sheet preparation, deal structuring, negotiations of post-merger equity stakes and implying valuations, shareholders' agreement, transaction documentation and assistance in executing closing procedures. Baltic Partners team was led by Valeri Kulitski (Managing Partner) and Dmitry Smirnov (Partner).
Baltic Partners is an independent regional financial advisory firm focusing on transactions with private equity funds, cross-border corporate M&A as well as ECM transactions in public markets. Baltic Partners is focused on serving clients in the Baltic States, Ukraine and CEE.