Baltic Partners advised iCotton on the acquisition of controlling stake of MedLen and Medvatfarm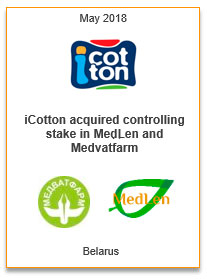 8 May 2018 – iCotton (Latvia) acquired controlling stake in MedLen and Medvatfarm based in Grodno (Belarus). The group of companies under common ownership are producing hygienic products including buds and pads, diapers, feminine hygienics products, medical cotton and bandages. ​
iCotton will support further growth and development of new products at both companies to address existing demand for high quality biodegradable hygienic products in EU and Eastern Europe.​
iCotton is a major hygienic and cosmetics goods producer in the Baltics and majority shareholder of largest cotton hygienic products company in Poland Harper Hygienics (WSE:HRP).​
MedLen / Medvatfarm are Belarussian medical and hygienic products companies located in Grodno special economic zone. Medvatfarm and MedLen have strong production expertise and capacity in linen converting which is alternative locally material to cotton, which is widely used in hygienics products. Medvatfarm is largest supplier of medical cotton in Belarus. MedLen is developing innovative linen and cotton based products for local and export markets.​
Baltic Partners acted as exclusive advisor to iCotton. The transaction was led by Mikhail Murashko and Valeri Kulitski. This is second consecutive deal advised by Baltic Partners aimed at supporting iCotton development strategy. Legal side was advised by Sorainen Belarus team.​