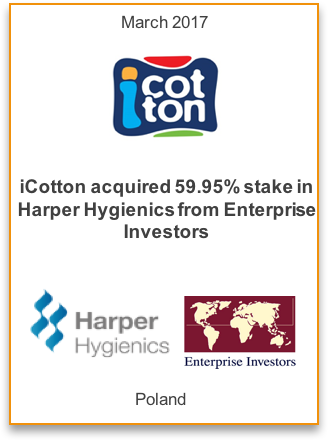 Baltic Partners advised iCotton on the acquisition of controlling stake in WSE listed Harper Hygienics from Enterprise Investors
15 March 2017 – Private equity firm Enterprise Investors agreed to sell 59.95% stake in Harper Hygienics to iCotton. Furthermore, iCotton provided additional financial commitment of over EUR 5 mln to support sustainable operations and further development. iCotton will also conduct obligatory tender offer for 6.05% of shares listed on WSE to consolidate 66% of shares in Harper Hygienics.
Baltic Partners supported iCotton in all stages of transaction, including non-binding offer preparation, valuation and synergies analysis, deal structuring, due diligence, negotiations of transaction documentations and communication with stakeholders. Baltic Partners acted in cooperation with Aspring Capital.
iCotton is a major hygienic and cosmetics goods producer based in Latvia. iCotton makes a wide range of products, including wet wipes, baby products, household goods. The Company was established as the Italian-Russian joint venture and in 2016 launched a new production line in Liepaja (Latvia) co-financed by European Union funds and Citadele bank. The acquisition of Harper Hygienics will help iCotton to establish the leading position in Poland and CEE.
Harper Hygienics is the leading producer of cosmetic and hygienic products in Poland and owner of "Cleanic", "Presto" and "Kindii" brands, which are the most recognizable brands among Polish customers. The Company listed on Warsaw Stock Exchange since 2010. In 2016 Harper Hygienics sales amounted to EUR 47 mln and it employed over 650 people.
Enterprise Investors is one of the largest private equity and venture capital firms in Central and Eastern Europe. Active since 1990, the firm has raised eight funds with total capital exceeding EUR 2 billion. Enterprise Investors acquired Harper Hygienics in 2004.
The transaction was led by Baltic Partners team, including Valeri Kulitski (Managing Partner), Mikhail Murashko (Head of M&A) and Andriy Shcherbyna (Associate).